New Patients at The Healthy Place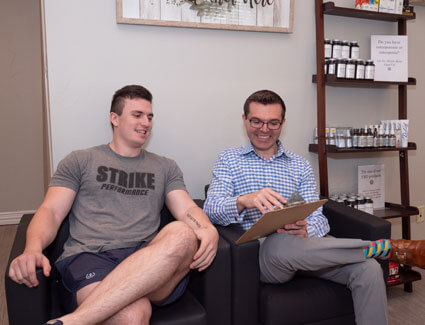 A Little Homework
Because our approach to care at The Healthy Place is all-encompassing, our new patient paperwork is rather extensive, and we ask that you complete it ahead of time and bring it with you. This "homework" will give you time to answer the questions fully and accurately, so that Dr. Campbell has all the information he needs to create the best care plan for you.
Your First Visit
Our first visit is longer than most chiropractors'—about an hour to an hour and a half. We'll conduct a detailed consultation, going over your health history and current health concerns. Then we'll delve into an in-depth examination, which will include chiropractic, neurological, nutrition and muscle testing, as well as an acupressure analysis. Dr. Campbell will explain what he's doing and what he's looking for, so you understand the entire process.
Then you'll receive your first adjustment and any other treatments necessary. At this visit, we are primarily addressing your pain.
If imaging is necessary, we will refer you out to an imaging clinic across the street, which can normally get our patients right in.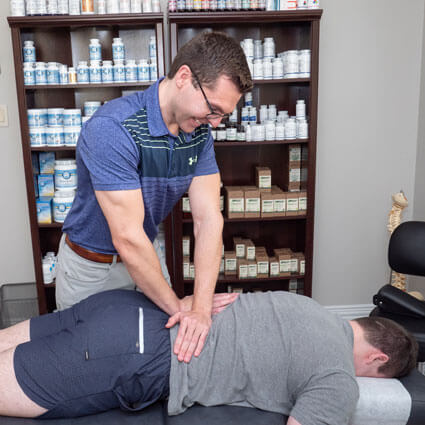 Your Second Visit
After reviewing your examination results, Dr. Campbell will design a care plan for your unique situation. This will include a full page of at-home exercises and wellness recommendations that we'll discuss at your second visit. Dr. Campbell will also explain how your whole body is involved in your current condition, as well as your overall wellness. You'll receive more in-depth treatment at this and subsequent visits.
Our combination of techniques approaches your wellness from a truly holistic perspective, addressing nutrition, neurology and emotions as well as your physical pain or condition. Often patients have many questions, and Dr. Campbell is delighted to answer your questions so you can be fully informed about your own health.
Start Today
Our goal is for you to achieve a level of wellness that you didn't even imagine possible, so that you don't need us. We want you to feel the best you can when you walk out the door. Contact us today to book your first appointment.
CONTACT US

New Patients at The Healthy Place | (469) 798-2496