Applied Kinesiology in Flower Mound
What Is Applied Kinesiology?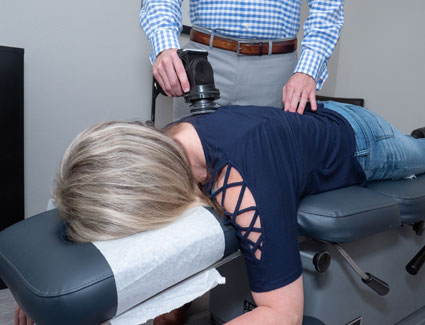 Applied Kinesiology (AK) is an umbrella term for several different diagnostic techniques. It's an application of anatomy, physiology and neurology in looking at the overall function of the body. By testing various muscles for strength, we are able to ascertain where dysfunctions exist in the body. It is essentially a way of asking your body where problems are, and how we can help correct them.
How Does AK Work?
Each muscle correlates with other various places within the body, by way of a shared nerve supply and acupressure meridians. When we test the muscles, it provides us an overall view of your health and wellness. This gives us information so we know where we need to dive deeper to address underlying issues. We can't directly ask your nervous system what's going on, but by testing the muscles, we get the answers from your body.
NEW PATIENTS

The Most Specific Care Possible
At The Healthy Place, we do not offer a cookie-cutter approach to care—we aim to learn as much as possible about the underlying causes of your condition so we can treat them with pin-point accuracy, and with the most effective tools for the job. With hundreds of hours of advanced training in Applied Kinesiology, Dr. Campbell has the knowledge and skill to locate issues that are often unable to be found with other diagnostic tools.
We do muscle testing at every visit, to help us get a picture of your progress and to fine-tune your treatment plan. Depending on what is going on within your body, we can tailor care specifically for your needs, which may include chiropractic adjustments, nutrition, supplements, massage, emotional therapy or Quantum Neurology.
Get Care Today
Contact us today to schedule your first appointment, and get to the bottom of what's causing your health problems.


Applied Kinesiology Flower Mound, Highland Village TX | (469) 798-2496