Acupuncture in Flower Mound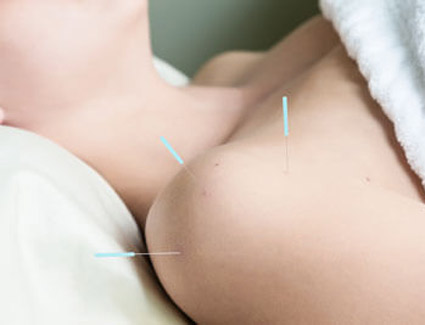 At The Healthy Place, we love helping people of all walks of life feel better and lead happier, healthier lives. That's why we're thrilled to offer gentle, focused, and proven acupuncture therapy to patients.
What is Acupuncture?
This modality is an ancient practice that stems from Chinese medicine and uses thin needles inserted into specific points on the body to unblock energy flow and restore balance. For more than 5000 years, it's been helping people just like you heal from a variety of conditions.
Acupuncture is rooted in the idea that there is an energy flow, known as Qi, that circulates through the body. When this energy flow becomes blocked, it can result in pain or illness.
At our practice, we use the therapy to help alleviate a diverse range of issues, including chronic pain, headaches and migraines, and pain in the neck, back, and shoulders. Additionally, it may be used to promote general health and relaxation of muscles, which can help improve overall well-being.
Benefits of Acupuncture
Patients often love giving this therapy a try because it's non-invasive and uses natural methods to alleviate pain and discomfort without the need for surgery or medication. It can be the perfect choice for patients who prefer natural and holistic approaches to healthcare and wellness-which is our specialty!
Who Should Try It?
In our practice, acupuncture is always gentle and custom to each patient, making it suitable for most people.If you're dealing with chronic pain or other health concerns, it's worth exploring acupuncture. Our team will work with you to create a care plan that addresses your unique needs and goals.
If you're considering acupuncture, our practice offers packages of up to 10 sessions at a discounted rate. Purchasing a package of five or 10 sessions is a great way to save money while committing to your health and wellness!
Frequently Asked Questions
Yes, acupuncture needles are sterile. They are single-use and disposable, meaning that they are only used once and then discarded.
Patients shouldn't expect to feel much (if any) pain. Placing the needles may cause a slight pinch or mild sensation, but it should not be uncomfortable or painful. Once the needles are in place, most patients do not feel anything negative. Some might feel warmth or tingling, which is considered normal.
How long does it take to see results?
Results from sessions may take some time to appear. Initially, it is recommended to have two sessions per week for a period of one to two weeks. After this, the frequency of sessions can be reduced, with a maintenance schedule of once a month or every six weeks. However, the time frame for results may vary for each individual patient as everyone's needs are unique.
Learn More Today
Take control of your health! Book an appointment with our team today. We can't wait to learn about you and your health goals, and do everything possible to help you achieve them naturally. Don't let these issues affect your life any longer, book your appointment now and start on the path to wellness.

Acupuncture Flower Mound, Highland Village TX | (469) 798-2496