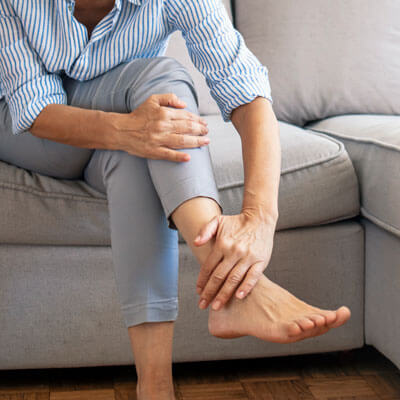 Diabetes has become a major contributor to health concerns throughout society. It is a growing problem that can lead to many health issues, a major one being peripheral neuropathy. The Mayo Clinic (2019) describes peripheral neuropathy as numbness, tingling, sharp pain, throbbing or burning pain, sensitivity, decreased coordination, increased fall risks, muscle weakness, and potential muscle paralysis in the extremities, most commonly the legs and feet. This is very important because, not only has this become an increasing problem in the general population, but diabetic peripheral neuropathy has also become an increasing concern in people over the age of 65. The Centers for Disease Control (2020) states that approximately 26.8% of people over the age of 65 have diabetes. Because of this, it is critical to find ways to improve and prevent diabetes and diabetic peripheral neuropathy.
A major issue with diabetes and peripheral neuropathy is that there are limited medical recommendations. The most commonly accepted treatment for diabetic peripheral neuropathy is a medication that helps relieve the symptoms and helps support other body systems that may be affected. However, this is often not enough to provide long-lasting results and to heal the affected nerves. Because of this, additional treatment options could be very beneficial for those experiencing diabetic peripheral neuropathy.
Thankfully, a very promising nutritional therapy for diabetic peripheral neuropathy is emerging in research. Vitamin D has been promoted for years for bone health, but, additionally, it is also a great supplement for nerve function. Vitamin D acts as a protective mechanism for nerves and allows them to heal, relieving pain and improving function. This is very important for people suffering from nerve pain and dysfunction due to diabetic peripheral neuropathy. Vitamin D supplementation has been shown to help significantly reduce diabetic nerve pain, increase function, increase blood flow to peripheral nerves, and improve symptoms of diabetic peripheral neuropathy. Many different doses of Vitamin D have been researched in producing results, but 40,000-50,000 IU per week has been shown to be a good, consistent dose for longer periods of time in producing improvements in symptoms and function.
What You Can Do
Because of these results, it is important to increase your vitamin D intake if you are suffering from diabetic peripheral neuropathy. There are several ways to go about this. An easy way to get the most consistent, highest levels of vitamin D is to purchase a high-quality vitamin D supplement. There are also food options that you can include in your diet to increase your vitamin D intake.
Good food options to increase or add to your diet include:
Trout
Salmon
Mushrooms
Soy
Almonds
Eggs
Sardines
Tuna
If you or someone you know is suffering from peripheral nerve pain or dysfunction due to diabetes, vitamin D is a very promising option. Try adding it to your daily health routine and see if it can be of benefit to you today!
In Health and Prosperity, See You Soon!